Open your x-mas presents late, a couple of days on Gran Canaria in images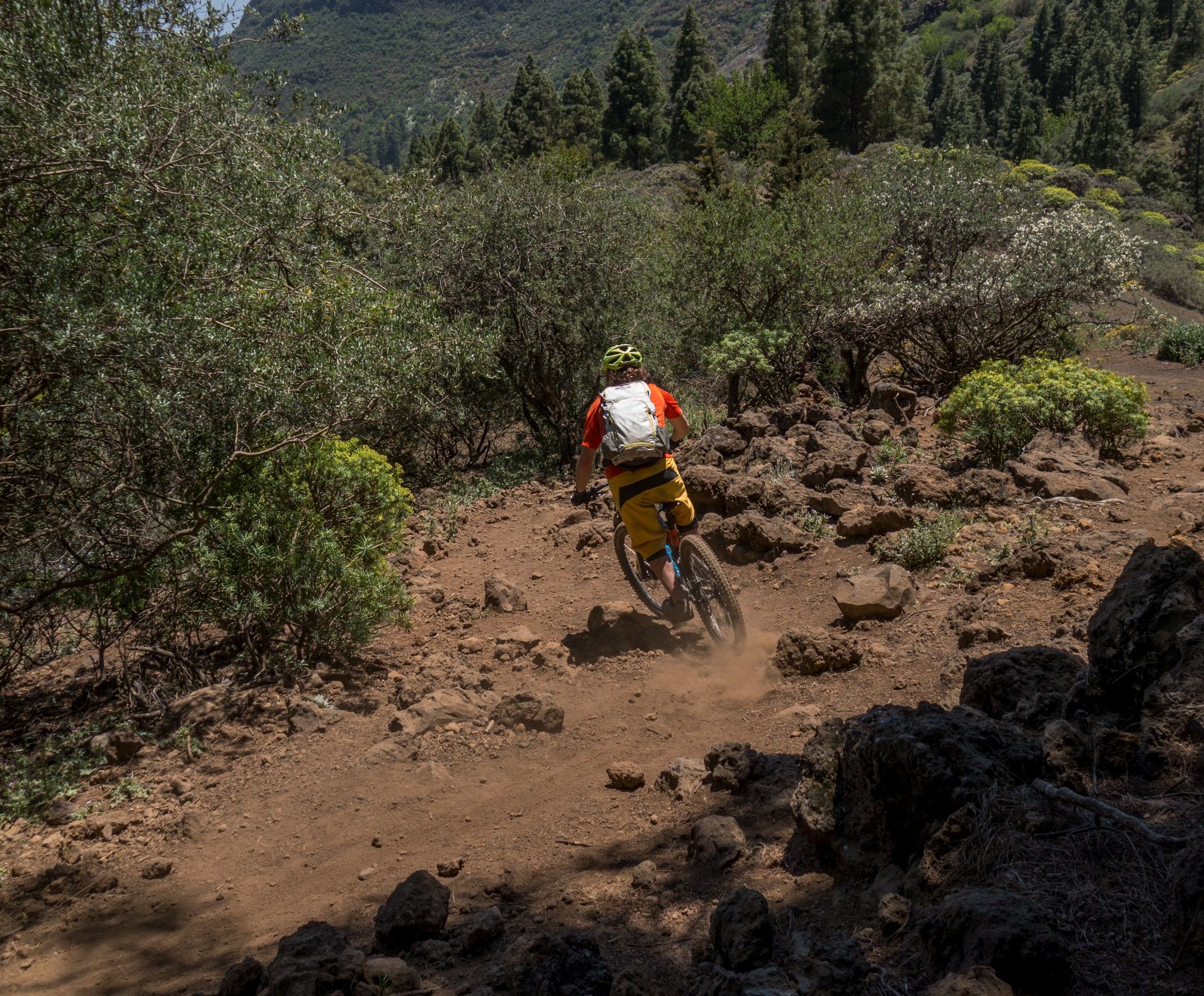 I got the best x-mas present ever this year, a trip to visit Andreas' sister with family on Gran Canaria. Yea, I know, I'm a lucky sod.
Off course we took the bikes with us, hanging out on the beach for a week is not our idea of a holiday.
Packing up bikes, studying maps, a porch is good for many things. Photo by Andrea
Off we go!
Who does not enjoy a bit of steep dirt tracks in the beating afternoon sun?
Climbing dirt roads is more fun when there is a view to be had. Photo by Andrea
Sort of finished climbing, we came from way down there. Oh, and according to the map there should be a spring around here.
Looking for a spring and feeling like Indiana Jones. No springs were found, just a pool of nasty green water.
Well then, time for the fun bit.
Just having a wee play on the ridge. Photo by Andrea
The map is again consulted, there should be a trail around these parts...photo by Andrea
Wide but very rocky. Good fun until I crashed. To be fair, it was quite fun after I crashed as well. I should just have avoided the actual crash.
Chunky and flat at the bottom makes for hard work, but some smiles were had as well. Photo by Andrea
Ending a ride by the ocean is ALWAYS right.
Playa del Ingles by night. Like a mix between Vegas and a retirement home. Photo by Andrea
A new day dawns, a new ride starts. Let's start out by figuring out where we are going, shall we? Photo by Andrea
Climbing out of Ingenio, surprisingly steep and straight. Photo by Andrea
A whole lot of tarmac climbing later...
At least one guy did not follow the signs.
Properly steep section of tarmac road. Horrible to be honest, just a bit too steep for comfort.
A whole lot of tarmac climbing later...
Yes, that is a goat. Chopped up, boiled for ages and served with chips. What's not to like?
Yay, big climb over and done. It's all downhill from here he says, with a weird feeling of possibly being quite wrong on the subject
A well knackered sign telling us this is where we go down. I think it was the only sign we found during the whole trip. Remember to bring your own map...
Loose, deep gravel and off camber at the start of the trail, good wake up call after a long climb. Photo by Andrea
Off camber fun on the first section of trail.
Sideways in the dust, the way to be for sure. Photo by Andrea
Cruising along on ancient terraces surrounded by cool plants sure beats hanging out on the beach
I love how it felt like the trail and the terraces were a thousand years old. A lot of hard work went into this trail, a long long time ago. Photo by Andrea
The last section down into the barranco was nice and chunky. Who does not enjoy a bit of old, dry rock action?
Well, being down at the dirt track, now we just roll gently down to the cafe for a beer and seafood dinner, right? Right?
The art of portage. Absolutely stunning trail, I would love to do this one in the correct direction.
Whoops.
At least the views were nice...
It's a long way down to that cafe. We literally got a bit carried away I think. Photo by Andrea.
We still had a bit of climbing to do, and then...
Ride the trail, or face the consequences. Photo by Andrea
Possibly maybe the last climb (almost, at least), surprisingly rideable for once
Techy at the top, and a long way down (or possibly undulating) still. Photo by Andrea
The dirt was red when we finally approached our last descent. And what a descent it was!
More old terraces, every once in a while there was a drop from one down to the next. Always after a blind corner, just to spice things up
The mighty Guayadeque valley, we came down from the summit on the left.
I have no clever caption, but I just like this photo a lot so it goes in here with the rest of them anyway
Yay, let's just flow all the way down to the ocean now! Right? Photo by Andrea
Sort of...
When the trail spontaneously evaporated on us the only option to a long bushwhack was a long push up the hill. Spoiled for choice indeed.
A seemingly very long push later...
We found the road, yay! Now let's find a beer! Photo by Andrea
Awefully close to water, but at least it was cold and where it should be, at the end of the trail. Photo by Andrea
Oh, and the Marzocchis, the gear nerds ask? Well, to put it bluntly, they work and work well. I was more than a little bit apprehensive, since the Bos shoes they would be filling are very big indeed, but my worries were unfunded.
I spent a while fettling around with air pressure, since mine are lowered to 150mm I had to go surprisingly low. At 160mm I thing the recommended air pressure in the manual is pretty bang on, but I had to take out 15-20% to be anywhere close to using full travel on them at 150mm. Damping feels great, supple but supportive, and stiffness under braking and cornering is more than enough for my 75kg. This is also the biggest change I have noticed so far when compared to the Devilles with their straight steerer. Oh, and the axle is more fiddly (and heavier I think) than the beutiful 20mm unit on the Devilles.
As far as damping goes, it is hard to really pick out big differences without riding them back to back, which I have not done. There is a slight difference in feel I think, the Bos forks have a "dead in the parking lot, great on the trail" feel to them that is hard to put in words. The air spring might also be a bit more progressive in the Marzocchis compared to Bos at stock oil levels, but the difference is i think easy to overcome by just adding or subtracting a bit of oil in the Bos.
The biggest difference I think is in the adjusters. The Marzocchis have a more traditional, very wide range on the rebound for example. It goes from pogo to almost not extending at all, with a bunch of useable clicks in the middle somewhere. Bos on the other hand does not seem to give the option of a bad setting, all 22 or whatever clics are good and useable, at least for my weight.
In summary they are two awesome forks, and I like the Marzocchis right now for the stiffness, great damping and cool brown stanchions (yea, I'm silly, I know). Big thumbs up to Fillariosa for providing punters like me with gear that is way better than they deserve.
Finally, a shout out to Andrea is well in order for giving me this trip as a Christmas present, and of course to her sister with family for letting us stay and being super cool company.